Lodging
Welcome to Ripon! There are several places to hang your hat, spend the night and ready yourself for tomorrow's activities. You'll feel at home at any of the following Chamber lodging options!
300 Watson Street – Ripon, WI 54971
A Ripon boutique hotel that is inspired. Expand your horizons when you stay at our boutique hotel in Ripon, WI offering the ideal blend of history, comfort, technology, and hospitality. This historic hotel has been modernized to offer high-end appeal. Incorporating technology for stream-lined check in and check out process, virtual attendants to help with your stay, conveniences and amenities for both personal and business travelers, and all with your comfort and safety as our number one priority. There's no other hotel in the area that offers a complete dedication to contributing to our vibrant and growing community. Whether you are celebrating an occasion, meeting on business, or enjoying a needed getaway, we plan on delighting you with amenities and extras that will make you want to visit us, again and again! Welcome to the Mapes Hotel, where luxury awaits you. For bookings email reservations@mapeshotel.com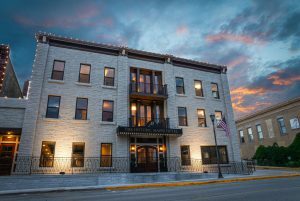 920-748-5500
2 Westgate Drive – Ripon, WI 54971
Located just two miles from Ripon College, and conveniently located close to area attractions like Vines & Rushes Winery, and Green Lake. Guests of this hotel will enjoy many full-service amenities, including free continental breakfast, free local calls, free weekday newspaper and free coffee in the lobby. The hotel has an exercise room, game room, indoor heated pool and hot tub.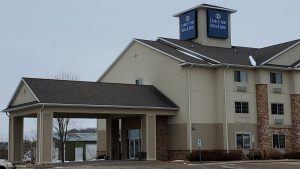 920-748-7578
1219 West Fond du Lac Avenue – Ripon, WI 54971
We're the only area hotel built with SoundGuard construction providing you a quieter night's sleep! Boarders Inn & Suites is located on the west side of Ripon by Royal Ridges Conference Center, just
minutes from Ripon College, Green Lake, and other area attractions. Enjoy amenities including an indoor pool, whirlpool, sauna, business center, WIFI, breakfast buffet featuring Belgium waffles, 24-hour lobby coffee, and free local phone calls. Make Boarders Inn & Suites your lodging choice.